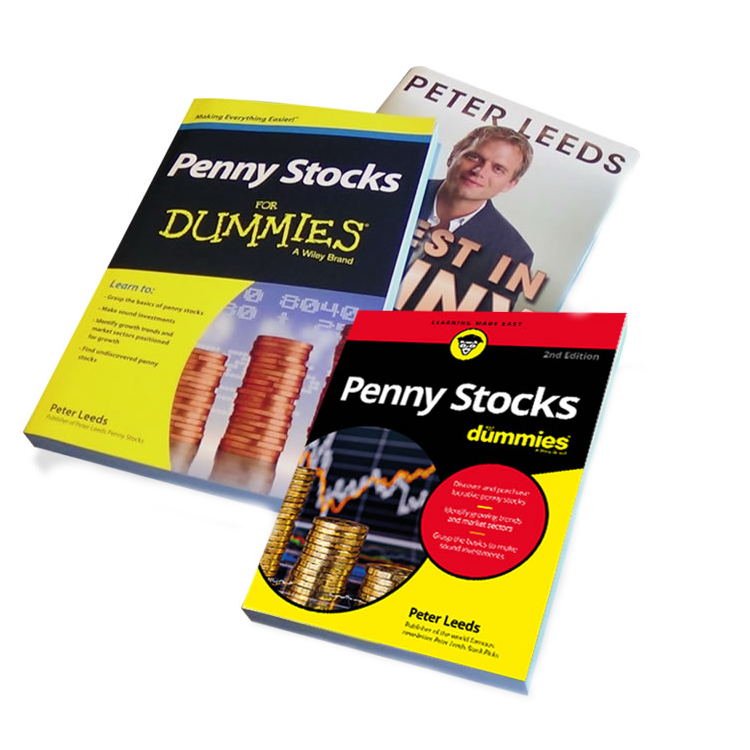 Peter Leeds is the Authority on penny stocks!
Peter Leeds is the author of 'Penny Stocks for Dummies,' and 'Invest in Penny Stocks.'

The publisher, John Wiley & Sons, originally approached Peter to write 'Invest in Penny Stocks.' Given the strong sales, they next contracted him to produce 'Penny Stocks for Dummies' under their flagship Dummies brand.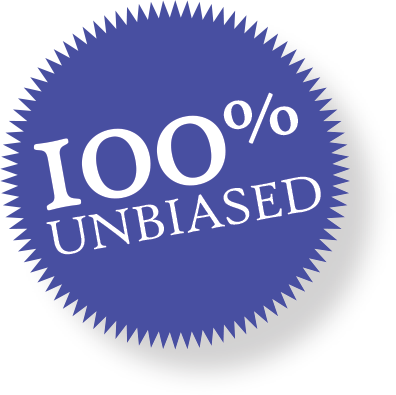 Get the honesty and integrity which Peter Leeds brings to investing.
Peter Leeds guarantees that neither he nor any of his team members accept a single penny of compensation from the stocks they profile. In over 20 years they have never had hidden motivations or a conflict of interest.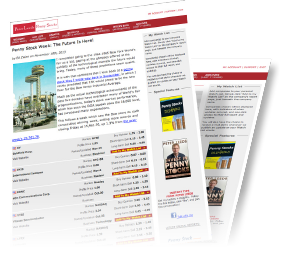 Want even more?
For $19 per month, you get:
• penny stock picks from the Authority, Peter Leeds
• you save hours with buy/sell price opinions
• you keep informed with ongoing updates
• profit from our full analysis team
5 Differences - Penny Stocks vs. Blue Chips
by Peter Leeds
Read all the past Blog entries here
There are many differences between penny stocks and other types of investments, which means that your investment approach towards penny stocks must be adapted accordingly.
Large Price Spread - The difference between the bid and the ask price is generally greater for small cap stocks. This is due to 2 factors; fewer parties are involved in the trading of penny stock shares, and appropriate valuations are much more difficult to estimate for penny stock companies.
The spread between bid and ask prices for small cap stocks can often be greater than 10%, so it is very important to use a LIMIT order rather than a MARKET order, so as to ensure the trading price of the shares you buy or sell.
Volatility - Penny stocks are often very volatile and can make large percentage moves in short time frames. This means that investors should keep a watchful eye on their investments, rather than buying and holding for the long term.
While there are many penny stocks available which may be long term investments, they still need to be monitored very closely due to their volatility.
Conventional Rules Don't Always Apply - Forces driving penny stocks are very different than those affecting the share prices of other types of investments. For example, speculation, promotional efforts, seasonality, and potential are a few criteria which should be examined in greater depth with penny stocks than other investments.
As well, depending on the type of company, patents and technological innovations, success of surrounding exploration claims, past management successes, and corporate alliances can also play a major role in the direction of the share price.
While other criteria do apply, such as technical indicators, fundamental analysis, insider trading, and institutional sponsorship, they impact the underlying stock differently depending if it is a small cap company or a large cap company.
Takeover and Acquisition Targets - The smaller relative size of many penny stock companies makes them more likely to be taken over by larger companies in the same industry.
As well, many smaller companies have the rights to important exploration lands, technology patents, or strategic market share which they don't have the resources to effectively exploit, meaning that larger corporations can move in and benefit where the small cap company was unable to.
When a company gets taken over it is usually to the benefit of the shareholders, as they often get a price premium for their holdings.
Investor Expectations - The reasons for investing in penny stocks generally involves the hope of large, significant profit. The average investor will hold their shares in a penny stock company for shorter time periods than they would for a blue chip corporation, and will hold out for significant profits before selling their shares.
This is important to consider when gaining an understanding of investor sentiment towards a particular company, and extrapolating share price movements from that understanding.
Investor expectations are also different as they relate to company operations. It is generally more acceptable for a small cap company to be losing money, over-spending on research and development, or growing very rapidly.
It is less than acceptable from an investor's point of view for a penny stock company to be undergoing negative or nil growth, to be paying dividends, or to be diversifying among non-related industries. We discuss all of that here, where we reveal our research methods.
The same does not apply, however, when dealing with large cap corporations. Therefore, there are distinct differences in expectations in penny stocks, when compared to investors in larger corporations.
Having an understanding of what makes penny stock investing unique will go a long way to knowing what to expect from the behavior of traders in the shares, and by extension knowing when prices are undervalued, and when to take a profit in penny stocks.
Penny Stock Trading Newsletter, $19.99/mth
Our penny stock trading newsletter specializes in high quality shares under $5.
Profit as we reveal the best undiscovered companies of the highest quality. We do not provide individual advice. These low-priced shares are trading for $5 or less, some as little as a few pennies.
All picks:
Have passed 29 Point Leeds Analysis
Are High Quality Companies
Are Our Best Picks Ready to Increase in price
Each of our penny stock trading picks has passed Leeds Analysis and is much more likely to multiply in value in the short term. As we say, great quality always rises to the top!
DID YOU KNOW?
Peter Leeds and his team take no compensation from the companies they review. (Most other newsletters do, especially the free ones. How can you trust them?)
All Peter Leeds high quality penny stock picks come with the 100% Unbiased Guarantee, stating that our research is completely impartial.
Your Penny Stock Trading Advantage
When it comes to the best companies to buy, Peter Leeds is the only choice. With a full team, you will be shown opinions on which companies are best, and gain instant access to all the daily updates, full company reports, and buy and sell prices.
In fact, if you want to try any of the numerous, unproven, flash-in-the-pan services, you are truly putting your money at risk. Selecting the best companies is something that Peter Leeds and his team take very seriously, and now you can benefit from all their hard work for an extemely low price!
The best picks to buy are the ones profiled by Peter Leeds! Get started with high quality stocks to buy right now!
High Quality Penny Stocks
You will get:
new picks weekly
buy/sell trading prices
ongoing updates
company reports
phone and e-mail support
There is no commitment. If you don't like what you see, simply cancel and don't pay another cent!
We do not provide individual advice.
Even if you are brand new to trading, you will get all the tools you need to be successful.
And don't forget - when it comes to the best high quality stocks, Peter Leeds and his team are the most well known, most trusted source for investors to learn which shares to buy.
Remember, Peter Leeds and his team have:
Been around for over two decades!
Sold well over 35,000 subscriptions
Been featured across all top media
This is a group who truly know what they are doing!
Peter Leeds strictly maintains that all of his employees abide by the ethics and moral code he leads with. There has never been, nor will there even be, a single penny in compensation for any of the stocks they profile. In this way, you know you can trust the honesty and integrity which the Peter Leeds team brings to bear.
Take a look at stock picks by Peter Leeds right now!