Penny Stock Allsorts (Stocks, Housing, Oil, Rates, More...)
by Peter Leeds on May 19th, 2016
Hey guys, we've got A LOT going on right now, all designed to help you profit from penny stocks.
Lessons in Penny Stock Analysis
As announced back in March one year ago, we have revealed much of our in-house Leeds Analysis process to discover and profit from the highest quality penny stock investments.
Well, we figured it may help you even more if we walked you through the process, step by step, so that you can analyze and research penny stocks in the same way that we do! Our answer: an entire free video series, using common online financial tools and portals which everyone has access to.
You can watch the entire first episode (plus what will eventually be over a hundred) at the link above. Plus, we've uploaded many more penny stock videos in the last few days, and have dozens on the way, all of which can be viewed if you subscribe to our penny stock channel on YouTube.
Stanford University and the Oil Countdown
Stanford University liked (and appreciated) what we are doing with our Oil Depletion Clock, which is designed to raise awareness for the world's reliance on oil, and the limited nature of the known supplies. You can see where they posted our blog, along with the active oil clock, here...
You can also help. Raise awareness by posting the oil clock on your blog or website, to demonstrate to the world that we only have about 5 decades of oil left, based on current daily usage rates.
Peter's Newest Book
The revised edition of the international bestseller, "Penny Stocks for Dummies," has just been released. The work is available wherever books are sold, and includes all sorts of new sections, clarifications, and improvements on the original.
In fact, you can watch Peter unbox the book live on camera here. New content includes avoiding investor stampedes, profiting from stock market manias, and even discusses Bitcoin, pot penny stocks, and the Dot Com bubble.
Upon release, top bookstores immediately ordered 1,609 copies of the new, "Penny Stocks for Dummies." So far, there have been two reviews on Amazon.com, both 5/5 stars!!
P.S. We need your help. If you've read the new version, or even the old version, of the book, please take 3 minutes to give it an honest review on Amazon.com. The original scored 4.5 out of 5 stars, after 124 reviews.
The reviews will come... but we always like to speed up the process. If you have any comments to make about the book, please make them, so that others can see how great Penny Stocks for Dummies will be for them!
Upcoming Video Schedule:
The Peter Leeds team have delineated the upcoming video production schedule. If you have any thoughts on topics you would like to see Peter and his team address, please just let us know.
Some of the penny stock videos to expect shortly include:
more parts of the Leeds Analysis process
stocks which will do well with a Democratic President... Republican President
how to make a short list of penny stocks
stock screeners
flat tax
how Peter got his start
the Fear Index
negative interest rates
debt ceiling
dozens more...
Sell in May? (Oil, Gold, Housing, Recession, Rates, More...)
Well, last year we said, "5 Reasons This is the Year to Sell in May and Go Away."
Well, unfortunately not much has changed since a year ago. The markets have been showing tremendous resilience despite many points of weakness slowly growing just under the surface...
We are wrong lots of times, but we feel comfortable with our expectations that:
oil prices will decline in the short term (coming 4 to 6 months)
Many of the driving factors pushing prices higher are temporary, like wild fires in the Tar Sands, and supply disruptions from Nigeria. Meanwhile, America has just posted an oil supply build, while at the same time higher prices have encouraged some marginal rigs and projects to come back online.
precious metals prices will climb
A stronger US dollar has been one of the major factors interrupting the recent strength in gold/platinum/silver. However, we expect the value of our currency to continue it's 100 year long slide lower, giving eventual strength to every commodity priced in US dollars. As well, the global economic uncertainty, pared with the worldwide flight to safety, will add to the growing precious metals demand we're witnessing over the last year. Our anticipation is for gold prices to top $2,000.
consumer discretionary companies (and therefore their stocks) will decrease
We are expecting a recession, and even without one, you'll still see the overheated stock market stumble. Consumer discretionary stocks are likely to get hit pretty hard.
not all is as it seems in China
This is big. Details about this will be released to subscribers of Peter Leeds Stock Picks.
hot housing market will cool
This will be more certain if the Federal Reserve starts with the rate increases they have telegraphed. Each 1/2% point increase in rates takes out another group of potential homeowners, which then reduces demand while increasing supply. If you don't understand what happens then, I can't help you.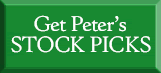 Peter Leeds Archives
Latest by Peter Leeds